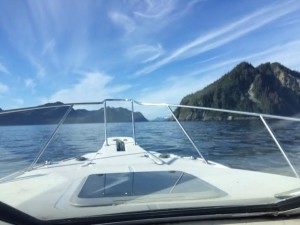 .
.
I had a blast last weekend in Prince William Sound
with fellow Realtor Larry Ficek. The weather was amazing, and the experience was one to remember.
We saw whales, porpoises, sea otters, eagles, puffins, and of course lots of fish.
We checked Larry's shrimp pots
and pulled in some huge shrimp, can they even call these shrimp?…aren't they too large for that?
Three octopus were hanging out in the shrimp pots gorging themselves on spotted and stripes shrimp. Sorry, no photo of the octopus, my hands were too covered in octopus slime to handle the iphone at that time.
We went all the way out to Montegue and had a great time fishing for halibut. Brought home some nice filets but no monsters for bragging pictures.

I have to say that Larry is a good cook out on the water.
He made us some fresh fish filet sandwiches from two quillback rockfish. Tasty little buggers no matter how they look. Larry fileted them, cooked them on an outside grill with butter and seasoning and we had them on a toasted bun with a little mayo. Not really possible to beat in any restaurant.
After two nights and three days
it was time to head out of Prince of Wales passage and get back on the job.
Speaking of job, give me a call if you would like to see a house or sell yours. First day back on the job today and I listed a house, received an offer on another one, and showed two more. I'm ready to help you. My cell is 907-232-7900