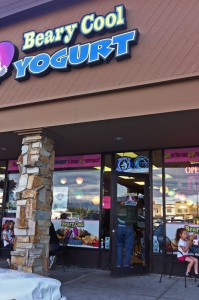 Beary Cool Yogurt
591 East Parks Highway, #235
By Blockbuster in the Wasilla Carrs Mall
(907) 357-2379
Review by Tamara Van Diest
I recently purchased a savings card from one of the Palmer High Football players. It offered a variety great Valley deals at locally owned businesses. One of those was Beary Cool Yogurt in Wasilla. I had never heard of it! I Googled it and then promptly went over to check it out.
Beary Cool Yogurt is located in the Wasilla Carrs Mall, right by Blockbuster and Great Alaska Pizza Company. They are on summer hours right now, so they're open from 11am-9pm Sunday through Thursday, and 11am-11pm Friday and Saturday.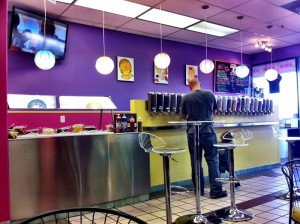 I walked in and fell in love! The interior is decorated like an old ice cream parlor, with bright colored walls and good seating. The employees were cheerful and easy to chat with.
Product wise, Beary Cool Yogurt offers 10 different flavors of frozen yogurt made by Honey Hill Farms. The flavors vary each week, and you have an option to swirl different ones together. You pay by the ounce, its $0.51 per ounce, but so worth it! They have 16oz and 20 oz cups, as well as fresh made waffle bowls. The Fro-yo is self serve, as you can see from the picture, and then you have a choice of over 40 different toppings ranging from fruit to chocolate to big gumballs.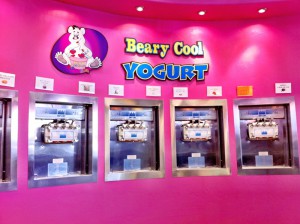 I tried Red Velvet Cupcake, Caramel Pretzel and Triple Chocolate. Amazing! I thought they tasted better without toppings (the flavoring is spot-on).
While the price was a little spendier than other places offering icecream, you know you're getting better nutritional value in frozen yogurt than in fatty icecream. They had sugar-free, low-fat and fat free options in both frozen yogurt and toppings. Their prices rival Fruit Land and Cold Stone, but they offer a one-of-a-kind product!
I came in at 7:30pm on a Friday night and it was busy!! How was I the last to know about this awesome shop?!?