This is a 4,320 sqft home with 1.45 acres by Finger Lake. Three stories, three car detached garage, dock with stairs down to the lake. Deck and Balcony overlook Finger Lake, other views include Pioneer Peak and the Knik Glacier.
The home offers 4 bedrooms plus an great office area, sauna, hot tub
and big living and family rooms. There are fireplaces in both main gathering areas, and separate utility and laundry rooms. Each floor has a full bathroom.
Kitchen plus pantry, dining, living and 2 bedrooms/1bath are on the second floor with indoor and outdoor access to the ground floor. The massive master bedroom with walk-in closet is on the top floor and boasts some beautiful lake views.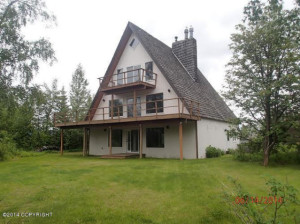 The ground floor has newer carpeting and includes a great office
area, huge family room, laundry/utility, full bathroom, sauna and hot tub area with cool accent tiles.
Easy commute from this home… only 40 minutes from Muldoon.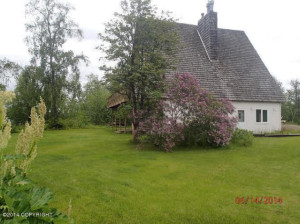 Click through the photos below, click "FS" to view them full screen.
[flagallery gid=50]